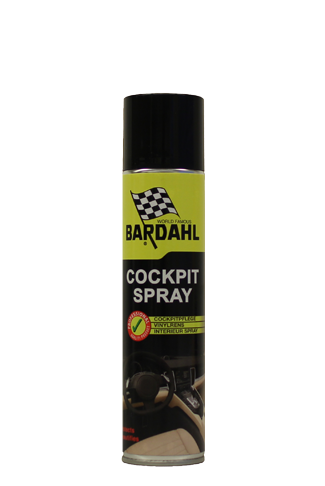 Cockpit Spray
Product number: :

66004
FREE shipping above €50,- Bardahl Cockpit Spray protects, penetrates and beautifies all vinyl, rubber, painted and plexiglass surfaces.
Need advice?
Or do you have other questions?
We are happy to help you
Cockpit Spray
Use of Bardahl Cockpit Spray will extend the average life of polymer materials many times. It improves the appearance and protection of all kind of surfaces. The silicone in the product lubricates and will stop binding squeaking and sticking. The product has numerous applications in cars and trucks, such as: dashboards, door coverings, consoles, plastic covers, vinyl top roofs, sun visors, rubber floor mats, but also all rubber, vinyl, plastic parts in camper, boat and any other recreational vehicle.
Category:

Car

, Classic

, Motorhome

Contents:

400 ML

Filter:

interior cleaners